Floating bridge: Ferry suspended after chain breaks on crossing
The Isle of Wight's troubled floating bridge has been taken out of service after a chain broke during a crossing.
Passengers said the chain ferry was midway across the River Medina on Friday evening when a prow chain that operates a ramp failed. It was able to make it to the Cowes side.
Floating Bridge 6 had re-entered service in December after being suspended for more than three months.
Isle of Wight Council said it hoped the service would resume on Monday.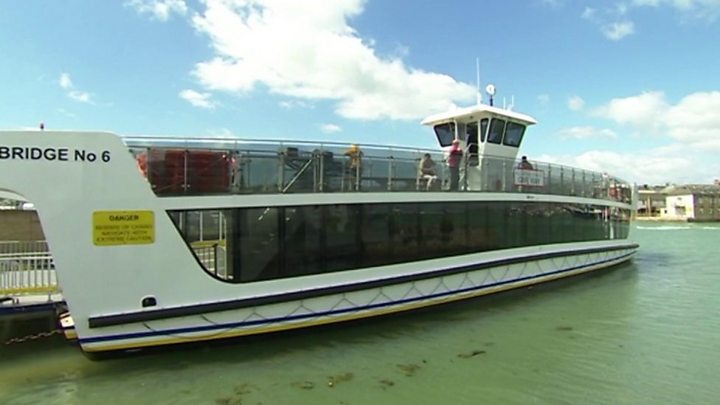 During periods when the ferry is suspended, a replacement operates for foot passengers, while vehicles have to take a 12-mile (19km) detour.
Angie Booth, who has campaigned on behalf of traders affected by disruption to the service, said: "With the age of this vessel - this sort of thing shouldn't be happening.
"Again, there isn't the confidence in it - what's going to happen next?"
The ferry service between Cowes and East Cowes was suspended in September - four months after the £3.2m ferry launched - following breakdowns, groundings and noise issues.
On its first day in operation in May, vehicles suffered from scraped bumpers on the slipway and it broke down with an electrical fault the following day.
---
Floating bridge timeline:
13 May - Vessel launched
14 May - Broke down
15 May - Service suspended by MCA
7 June - Ran aground
9 June - Ran aground for a second time
9 June - Council said it had cleared "silt build up that caused the floating bridge to ground"
10 June - Ran aground a third time
13 June to 3 July - Taken out of service at low tide
30 June - Broke down due to electrical fault
21 July - Withdrawn from service at night due to noise levels
4 September - Withdrawn from service indefinitely
11 December - Service resumed as part of extended trial
---