Wightlink ferry deck officer praised for sea rescue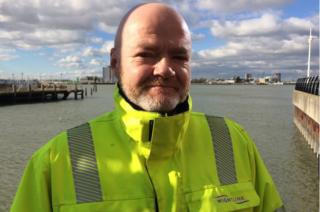 A ferry company said it was "proud" of one of its deck officers who jumped off a vessel to save a drowning man.
The man was spotted in the freezing waters of Portsmouth Harbour from a Wightlink ferry late on Saturday.
Steve Chamberlain said he acted "instinctively" when he saw the man was in trouble.
Operations director Daryl Palmer said: "We are very proud of Steve and his colleagues for acting so promptly."
The ferry, St Clare, was at its berth at the Gunwharf car ferry terminal, preparing to sail at midnight to Fishbourne on the Isle of Wight.
The crew on the car deck saw a man in the water and at first threw a life ring in his direction.
Mr Chamberlain, who previously served in the Royal Navy, said: "I just acted instinctively when we saw the man wasn't able to get into the life ring.
"We carry out emergency drills all the time but it's different when it's happening for real.
"Getting the man to safety was teamwork and I'm grateful to my fellow crew members for their support."
Mr Chamberlain recovered the man from the harbour, who was conscious but suffering from hypothermia.
He was treated by paramedics at the pontoon in Broad Street, Old Portsmouth and then taken to Queen Alexandra Hospital, where he is recovering.
When Mr Chamberlain returned to the terminal ticket office, staff had blankets and warm clothing ready.
He was also taken to hospital but later discharged.
Mr Palmer said: "It was a cold winter's night and I'm sure the man would have died from hypothermia if he had not been spotted by the crew and rescued by Steve."