Floating bridge: Stoppage continues following broken prow chain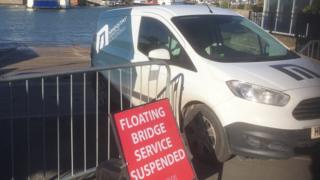 The Isle of Wight's troubled floating bridge is to remain out of service "until further notice" after an on-board chain failed.
The chain which operated the prow broke mid way through crossing the River Medina on Friday evening. The crew safely docked the vessel at Cowes.
It had been hoped to resume operations on Monday.
Independent local councillor Karl Love said the series of problems affecting the ferry had "hurt island's image".
The council said there was a temporary repair made to the secure the prow, but the strain on the remaining chain led engineers to suspend the service.
The £3.2m Floating Bridge Number 6 entered service in May but was immediately beset by problems - cars scraped their bumpers while disembarking and it suffered an electrical fault on its second day in service.
There were also groundings and complaints have been raised about its noise.
It re-entered service in December after being suspended for more than three months.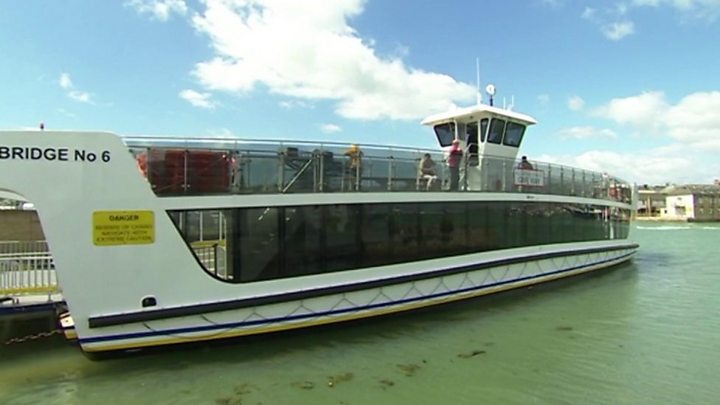 Mr Love, the councillor for East Cowes said the situation was "a mess".
"The replacement launch means shift workers are not able to get home, community activities between both parts of Cowes are curtailed and tourists are not able to use restaurants and eat out.
"This bridge has really hurt our island image, tourism and local business."
In a statement Isle of Wight Council said: "It is important to remember that we are still in commissioning trials."
It added the service was "unlikely to return to service until later this week".
A replacement launch is operating for foot passengers while vehicles have to make a 12-mile (19km) round trip by road.
---
Floating bridge timeline:
13 May - Vessel launched
14 May - Broke down
15 May - Service suspended by MCA
7 June - Ran aground
9 June - Ran aground for a second time
9 June - Council said it had cleared "silt build-up that caused the floating bridge to ground"
10 June - Ran aground a third time
13 June to 3 July - Taken out of service at low tide
30 June - Broke down due to electrical fault
21 July - Withdrawn from service at night due to noise levels
4 September - Withdrawn from service indefinitely
11 December - Service resumed as part of extended trial
2 January - Broken prow chain
---