Portsmouth head teacher admits cocaine and drink-drive charges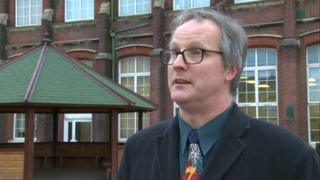 A head teacher who was pulled over after driving through two red lights was almost twice the drink-drive limit and had cocaine.
Iain Gilmour, 48, was stopped late at night in Portsmouth on 25 January.
He told Portsmouth Magistrates' Court he had been under "constant" political and financial pressure at Isambard Brunel Junior School.
He was banned from driving for 18 months after admitting drink-driving and possessing a Class A drug.
He was also ordered to pay costs and fines totalling £1,920.
Gilmour, of George Street, Portsmouth, was suspended from his job last Thursday.
The court heard he was stopped in Manor Road and had half a gram of cocaine which he had purchased for £200 earlier that day.
The court was told he had drunk three bottles of wine and police recorded his alcohol level as 67mg per 100ml of breath - the legal limit is 35mg.
Reading from a prepared statement in court, Gilmour said: "The last couple of years have been incredibly difficult for me.
"As well as constant political and financial changes that all schools face, I have had to face further unique challenges as a head teacher."
'Personal demons'
He spoke about being affected by the death of a long-standing school colleague from cancer, disappointing exam results in July and being placed on a support programme after an Ofsted inspection.
The school was given a "requires improvement" rating by the education watchdog following an inspection last year.
He also revealed he had been battling depression and a recent dependency on alcohol.
"I was in such a state on the night of my arrest when I compounded my stupidity by giving into a desire for something stronger. My subsequent actions have destroyed my career," he said.
The school, which is currently being led by the deputy head, said Gilmour was "suspended immediately" when the allegations came to light and it would be starting disciplinary procedures.
Gilmour apologised to his family and the school and said he was seeking help to fight his "personal demons".
Magistrate Lee Mandiwall told him: "We feel for you sir, but we are here to uphold the law."