Chris Packham campaign tree reprieved in East Cowes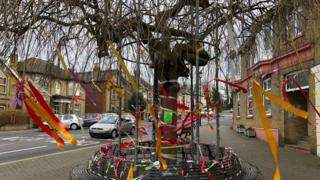 A "much-loved" tree has won a temporary reprieve after TV presenter Chris Packham backed a campaign to save it.
The weeping ash, planted in East Cowes, Isle of Wight, more than 100 years ago, is facing the axe because of fungus.
An "imminent breakage" of the tree, above a bench, is "likely", a council tree inspector has said.
The highways authority, Island Roads, which had intended to remove the tree, said it would commission a further "detailed examination".
Mr Packham, a presenter of the BBC's Springwatch series, urged authorities to "listen to your community and fix it rather than fell it".
He said in a tweet: "Trees aren't for councils, they're for life. Long life, many lives, the lives of many things."
Dozens of ribbons have been tied around the locally-named "umbrella tree" by campaigners.
A tree surgeon commissioned by residents said it posed "no immediate danger to the public".
But Isle of Wight Council said his report "misidentified" the "heart rot fungi" which was "putting the whole tree's stability into question".
The authority said it had "no objection" to removing the tree.
Island Roads, which had notified the council of the work, said it would "explore all options to prolong the life" of the "much-loved, landmark tree".