MoJ let Carillion staff work in jails with no suicide training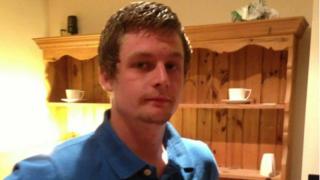 The government allowed staff from contractor Carillion to work in prisons without suicide prevention training, it has emerged.
The Ministry of Justice did not specify the training when the firm's £75m-a-year prison contract began in 2015, the Prison Service said.
The service was responding to a coroner's inquiries into an inmate's death at HMP Winchester in 2016.
The death could have been prevented by trained staff, an inquest jury ruled.
Sean Plumstead, 27, was found hanged in his cell at the Hampshire jail on 15 September 2016.
The father-of-two had reportedly asked a Carillion staff member the best way to kill himself, but the agency worker did not take it seriously and failed to record or report it.
The inquest jury said no action was taken because staff had "inadequate" suicide and self-harm (SASH) training.
In a prevention of future deaths report, Hampshire Coroner Grahame Short said: "There is a risk... that there was and continues to be a gap in training which Carillion is either unaware of or unconcerned with."
He said at least two agency workers were employed at HMP Winchester without the training required by the Prison Service.
'Shocking lack'
In a reply to the coroner on 9 January, Prison Service Chief Executive Michael Spurr said: "Suicide and self-harm prevention training was not specifically brought to the attention of Carillion when their contract began."
Carillion said it had been "unaware" of the requirement for SASH training prior to the inquest.
Solicitor Clair Hilder, who represented Mr Plumstead's family at the hearing, said the revelations showed "the shocking lack of priority given to self-harm and suicide prevention in prisons".
The Ministry of Justice announced it would take over Carillion's prison work following the firm's collapse in January.
The MoJ has not made further comment.