Ex-marine Mark Fincham 'run over by team-mate' in motorcycle race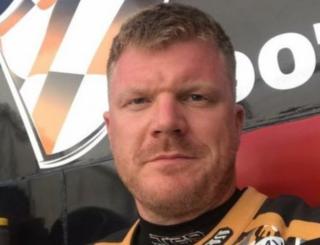 A former Royal Marine killed in a British Superbike race was accidentally run over by a team-mate who was following behind, an inquest has heard.
Left-leg amputee Mark Fincham, 37, was racing for the True Heroes team, which gives injured military veterans motorsport experience, in August.
Rider Jim Walker said he hit his team-mate after Mr Fincham came off his bike at Thruxton Circuit in Hampshire.
Coroner Grahame Short recorded a verdict of accidental death.
In a statement, Mr Walker described how Mr Fincham, from King's Lynn in Norfolk, was thrown from his BMW 1000 superbike after the rear wheel began to slide.
"Mark landed in front of me. A second later I hit him, I had nowhere to go," he said.
A video played in court showed both riders cannoning into foam barriers in front of spectators.
Paramedics immediately commenced CPR at the side of the track but Mr Fincham, who had his left leg amputated after a crash in 2007, was pronounced dead at the circuit's medical centre 40 minutes later.
Coroner Mr Short said the initial crash was caused by "highsiding", where the rear wheel began to slide and suddenly regained traction, throwing Mr Fincham off.
He said Mr Fincham died from "unsurvivable" internal injuries and ruled that the death was as a "combined result" of the crash and the subsequent collision with Mr Walker, who was uninjured.
Members of Mr Fincham's family, who were at the inquest, made no comment after the hearing.
In a previous tribute, they said: "Our world has fallen apart, we as a family are completely and utterly heartbroken.
"We have lost a totally amazing son, brother, brother-in-law, uncle and boyfriend, who lived his life to fullest no matter what it threw at him."