Portsmouth woman jailed for 23 years for stabbing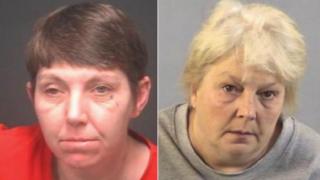 A woman who stabbed another woman to death has been jailed for a minimum of 23 years.
Nadine Burden, 36, suffered stab wounds to her face, neck and body at her home in Portsmouth in January 2017.
Victoria Arthur, 44, of Milton Road, Portsmouth, was convicted of the murder by a jury at Salisbury Crown Court.
Her partner Julie Palmer, 54, was jailed for two years, reduced from 30 months, after admitting a charge of assisting an offender.
Arthur, whose first trial was abandoned when she fell ill, was convicted after a retrial.
The initial jury heard how she had threatened Ms Burden, a drug addict who lived in Toronto Road, for several days over a £100 debt owed to Palmer.
Following the stabbing, Arthur went to Palmer's home in Westminster Place where her partner washed her blood-stained clothes, police said.
Det Con Steve Norridge said: "I hope today's sentence goes some way to giving the family closure and that they can move on from this terrible event."
Kerry Maylin, from the Crown Prosecution Service, said: "This was a gruesome attack which cost Nadine Burden her life.
"[Arthur's] frustration turned to extreme violence when she decided to turn up at Nadine Burden's house and stabbed her seven times causing her death. With the assistance of Julie Palmer she then tried to get rid of any evidence that could incriminate her."