Duo jailed for Hayling Island Ukrainian people smuggling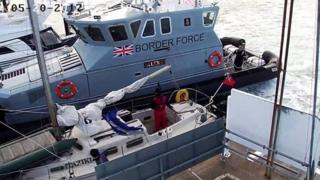 A former ballet dancer and a chef have been jailed for attempting to smuggle six Ukrainians into the UK on a yacht.
Vladyslav Kurtoglu and Dmytro Kruik were caught when their yacht was intercepted in Hampshire in May 2017.
Two of the six were found in the lower decks, Portsmouth Crown Court heard.
Kurtoglu, 50, was jailed for six years after being convicted of assisting unlawful immigration and Kruik, 29, was jailed for three years and nine months, having admitted the same offence.
Kurtoglu, who had previously been a ballet dancer and choreographer, and Kruik, a chef, had sailed to the Hampshire coast their yacht, the Tazik, from Barfleur in north-west France on 20 May.
Prosecutors told the court the plot was a "sophisticated attempt to bring illegal immigrants into the UK".
The yacht was intercepted near Hayling Island and six people were discovered crammed in the small vessel, including two hidden in the lower decks.
Kurtoglu and Kruik told Border Force officers poor weather had forced them to seek harbour in the UK.
A navigation app found on Kruik's phone had a course set from France to Hayling Island and showed there was "perfect sailing conditions" at the time.
Lyn Sari from Immigration Enforcement's Criminal and Financial Investigation said it was a "carefully planned criminal operation".
"Evidence showed that Kruik and Kurtoglu had plotted the route into Hayling Island in advance and that they had scouted the embarkation point to ensure they could get people on board away from security cameras.
"The relaxed selfie that Kruik took en route to the UK is indicative of how confident they were of success."
The six found on the yacht have since been removed from the UK.