Two thatched cottages in Monxton destroyed by fire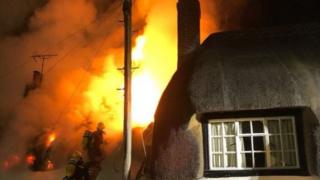 Two thatched cottages have been destroyed in a blaze fought by more than 70 firefighters for 17 hours.
Crews were alerted to flames at a property in Monxton, near Andover in Hampshire, at 19:50 GMT on Saturday.
Hampshire Fire and Rescue Service said the fire "spread rapidly" on the building's first floor and later engulfed an adjoining cottage.
No injuries were reported. Investigators remain at the scene to establish the cause.