Sickness-hit Waterlooville school pupils back from US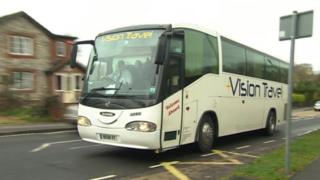 Pupils and teachers who were rushed to hospital while on a school trip to the US have arrived back home.
Three staff and 48 students from Crookhorn College in Waterlooville were given treatment in Washington DC after some contracted a "virulent" bug.
Thirteen of those treated after falling ill at their hotel were found to be suffering "gastrointestinal distress".
US health officials are investigating the cause of the outbreak, which remains a mystery.
Headteacher, Mrs Sarah Bennett said: "Obviously we're extremely relieved that the children have returned safely.
"Our priority now is for the children to recuperate quietly at home during the rest of the Easter break."
She said parents had been given advice from Public Health England.
The Department of Health, Washington, DC said it was "investigating this outbreak of illness".
Planet Hollywood, where the group ate in New York, said "it did not believe it was the cause of the mass sickness".
In a statement the restaurant said "no issues" with other groups who dined on the same evening had been reported.
Robert Earl, founder of the restaurant chain said: "As a parent I can only imagine how concerned these parents have been about the well-being of their children whilst overseas."