Norovirus suspected in US-trip pupils hit by sickness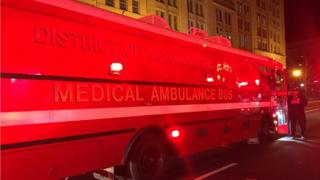 An outbreak of norovirus is believed to have been the cause of mass sickness among pupils and teachers hospitalised while on a school trip to the US.
The group from Crookhorn College, Waterlooville became ill during their trip to New York and Washington DC.
The Department of Health in Washington DC said samples were being tested but "we suspect that it was norovirus".
Ambulances were called to the group's hotel on Sunday after dozens of pupils and three teachers fell ill.
In total, 48 children and three teachers were treated, with 13 found to be suffering "gastrointestinal distress".
Washington DC health department spokesman Tom Lalley said: "I believe that everyone affected by this outbreak has left DC.
"We are not aware of additional cases of illness associated with this outbreak."
The group of 51 pupils aged 11-16 and five staff returned home from the trip on Wednesday.
Head teacher Mrs Sarah Bennett said parents had been given advice from Public Health England.
All pupils and staff are understood to be recovering at home.