US veteran pays tribute to SS Leopoldville troopship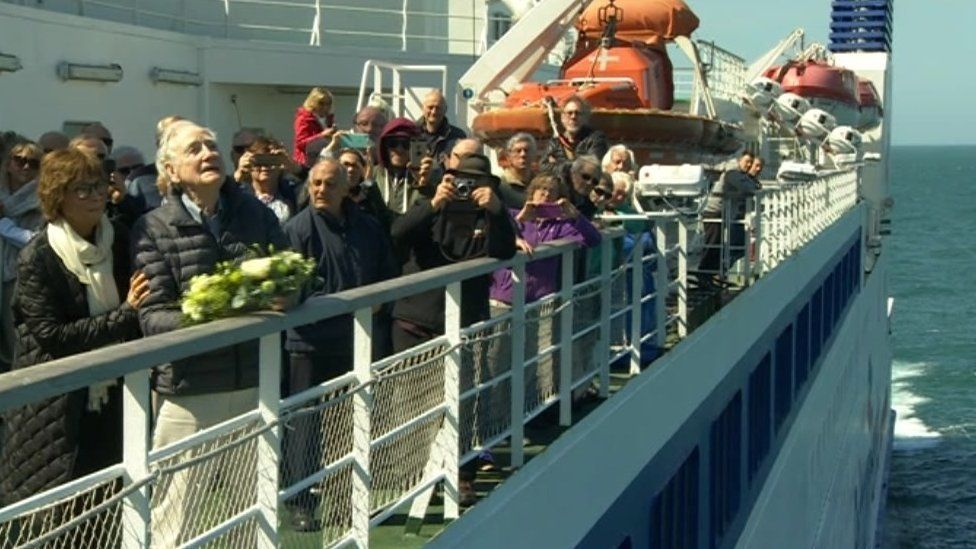 A US military veteran has paid tribute to his lost troopship at the site where it was sunk during World War Two.
John Waller was with the 66th Infantry Division on the SS Leopoldville when it was torpedoed on its way from Southampton to Cherbourg in 1944.
More than 800 people drowned, but he survived despite spending 45 minutes in the sea.
Now 93, Mr Waller threw a wreath from a ferry over the wreck site. He said it had been an "emotional" experience.
News of the sinking, five miles off the French coast, was censored and it was decades before many families learned how their sons died.
British documents about the incident remained classified until 1996.
Mr Waller, who was 21 at the time, said he never spoke about the sinking to his family and "wiped the whole scene out of my mind".
"All I did was feel the shaking of the boat when the torpedo hit. I walked down the side of the ship into the water," he said.
"I remember it rolling over and going down, disappearing into the sea."
He returned to Normandy for the first time since the war on a visit organised by his daughter Garland.
Passing the wreck, Brittany Ferries Barfleur stopped and passengers watched as Mr Waller threw a wreath into the sea in memory of his comrades.
Ms Waller said it had been a "spiritual closure" for her father.
"I could see what it meant to him - it brought all these memories back that he has pushed down for so many years," she added.