Man jailed after blaming speeding ticket on fictional Frenchman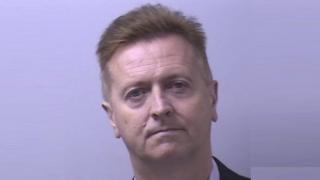 A man who tried to avoid a speeding ticket by claiming a fictional Frenchman named after a Paris waxworks museum was driving has been jailed.
Christopher Henry, 52, was caught by a mobile speed trap driving his ex-wife's 4x4 in Hampshire in February 2016.
After the offence, which would have resulted in a £100 fine, he "created an extraordinary web of lies" across two years, Hampshire police said.
Henry was jailed for 12 months for perverting the course of justice.
Henry was described as a "fantasist" and "akin to Walter Mitty" by the judge during sentencing at Winchester Crown Court.
He was caught speeding on the A343 Newbury Road in Hurstbourne Tarrant before police sent a speeding ticket to his ex-wife - who owned the Land Rover Freelander he was driving.
Henry, of Church Road in Weston-on-the-Green, Oxfordshire, intercepted her post and returned the paperwork stating a man called Grevin Musee - Paris waxwork museum Musee Grevin in reverse - was the driver and new owner of the car.
Police said the documents were sent to Monsieur Musee, which translates as Mr Museum, and that they were returned claiming a man from the Isle of Lewis named George Harris was in fact the driver.
A two-year investigation established that neither man existed.
Hampshire police said it was told by Interpol that its French suspect was in fact the name of the Paris waxwork museum.
Henry was caught after his fingerprints were found on the original speeding fine documents.
He had also given the fake name name to Avon and Somerset Police when an Audi TT registered to Henry was caught speeding in August later the same year.
It was then found he had provided false dates of sale to the Driver and Vehicle Licensing Agency, set up bogus email addresses and doctored messages from insurers in a bid to cover his tracks, police said.
PC Richard Jewell, who investigated the case, said: "He would have got points and a fine but now he has a criminal record and time in prison."
Henry was given six points for the original offence and fined £800, which was raised when he appealed to £1,600, with a three-month disqualification from driving.