Isle of Wight fall death nurse denied return to work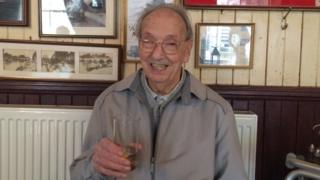 A nurse, who "forgot" to visit an elderly patient who was later found dead, has been refused permission to return to work by a disciplinary panel.
Isle of Wight bank nurse Simon Diacon, 43, had been due to change dressings on Thomas Higgins' legs in November 2015.
The 96-year-old broke his neck, probably after slipping in fluid from his legs, an inquest ruled.
A Nursing and Midwifery Council (NMC) panel rejected a proposal to allow Mr Diacon to work under set conditions.
Mr Higgins was found dead at his home in Binstead, near Ryde, on 7 November 2015, the day after the missed visit.
"Mr Diacon has not been able to explain why he missed his appointment," a report to the NMC panel said.
"Although he has apologised for his failure to attend... the case examiners have not been presented with any significant evidence of insight, remorse, or remediation," the report added.
The panel rejected a proposal by case officers to impose a 12-month Conditions of Practice Order, allowing Mr Diacon, who is currently suspended, to return to work.
'Serious misconduct'
As part of the proposed agreement, the nurse had admitted his fitness to work was "currently impaired for health reasons".
He also admitted he had "in the past brought the nursing profession into disrepute by reason of his health condition".
The NMC panel ruled that the missed appointment "could amount to serious misconduct" and should be reconsidered by a new panel on a date to be fixed.
In 2016, the Isle of Wight coroner ruled that Mr Higgins' death was an accident contributed to by "individual and systemic neglect".
The coroner, Caroline Sumeray, said her investigation had also uncovered a "scandalous" database used by nurses, which deleted patients' details and lost records of staff visits.