Winchester M3 arson: Teenager's hospital order extended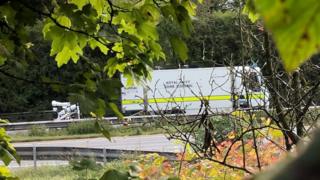 A public schoolboy who threw fire bombs from a motorway bridge in the hope of killing drivers has had his interim hospital order extended.
Former Winchester College pupil Nicholas Elger, 17, was made subject to the order in March after pleading guilty to charges including arson.
Judge Keith Cutler told Winchester Crown Court Elger's psychiatric assessment was continuing.
He extended the order until 15 June, before a possible sentencing in July.
Elger caused an estimated £40m in damage to the economy by forcing the closure of part of the M3 for 11 hours on 23 September, the court heard previously.
A driver approaching the motorway bridge near Winchester found the "carriageway ablaze with flames reaching the height of a person".
A week earlier, on 16 September, a lorry driver had to swerve to avoid two fire bombs thrown from the bridge, the court was told.
In later interviews, Elger said he had been hoping to kill someone and regretted that he had not succeeded.
Elger, from Winchester, previously pleaded guilty to two counts of arson recklessly endangering life.
He also admitted two counts of blackmail in which he threatened to burgle the school unless the headmaster paid him about £20,000.
The teenager pleaded guilty to eight burglaries, mainly of computer equipment, between August 2016 and June 2017, and twice shoplifting materials for his bombs.
Prosecutor Martyn Booth told the court Elger's doctors were "working towards a meeting in July in what they hope to achieve with this particular defendant, if anything".
Judge Cutler, who lifted reporting restrictions on identifying the teenager, said: "There is a quite of lot of work going on, with some areas of concern."
Previously, Winchester College said Elger had left before the motorway attacks in order to receive the "extensive medical support he required".