Bob Higgins trial: Coach 'abused teen twice a week'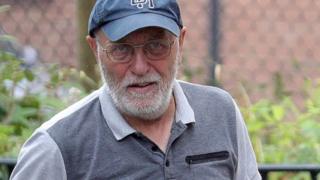 A former youth football coach abused a teenage victim "at least twice a week", a court has heard.
Bob Higgins, 65, is accused of groping and other abuse against 24 boys, many of whom were trainees at Southampton and Peterborough United.
A man referred to as Complainant A said he had been "coerced" into performing reciprocal sex acts with Mr Higgins as a young teenager, jurors heard.
Mr Higgins denies 50 counts of indecent assault at Salisbury Crown Court.
The charges, dating between 1971 and 1996, arose after the NSPCC set up a helpline to deal with sexual abuse in football, the jury was told.
A video recording of a police interview with Complainant A, who cannot be named for legal reasons, was played to the court.
"It didn't feel right... I knew in my heart it was totally wrong," he said.
"I knew nothing about sex. I lost my virginity to Bob Higgins."
Complainant A told the court that at one point he threatened to assault Mr Higgins with an axe, saying he wanted to "pay him back" for what he had done.
Years later, he said Mr Higgins had apologised and told him "I found God and I need to say sorry".
"He didn't say 'I'm sorry for abusing you', just 'I'm sorry'. It's because he knew what had happened and he needed to apologise," Complainant A told the court.
In the video, Complainant A said he was aware of a previous trial involving Mr Higgins but went to police after seeing media reports about fresh allegations in 2016.
"I couldn't let it go again," he said.
He said he remembers someone in a BBC programme about abuse allegations in football saying "if you remain quiet you are protecting your abuser". The next day he called the NSPCC.
Under cross examination by Alistair MacDonald QC, Complainant A was asked why he had not told anyone about the alleged abuse. He replied that he had been "ashamed".
"When you are ashamed, you don't want to shout from the rooftops what happened to you," he said.
Complainant A told the court he had met and played football with former England captain Alan Shearer in the early 1970s.
Mr MacDonald described the man's story as "pure fantasy" as Mr Shearer was only born in 1970.
The jury earlier heard Mr Higgins, from Southampton, was found not guilty at a trial for similar offences in the 1990s.
The trial continues.