Bob Higgins abuse trial: Coach 'groped boy watching TV'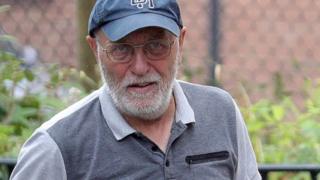 A teenage boy who went on to play for Southampton was groped by his coach while they watched TV together after training, a court has heard.
The footballer said he fled the room after feeling Bob Higgins's hand "searching" under his shorts.
He did not report the attack as he did not want to "derail" his career, Salisbury Crown Court heard.
Mr Higgins, 65, denies 50 counts of indecent assault against teenage boys between 1971 and 1996.
The charges were brought after the NSPCC set up a helpline to deal with sexual abuse in football, jurors have previously been told.
The man, referred to in court as Complainant C, said Mr Higgins took trainees into his darkened lounge and "cuddled" them.
"On this occasion I was sat closest to Bob," he said in a video interview played to the jury.
"His hand started on the thigh... and sort of went down my shorts.
"I was a bit confused. I thought to myself [it's] time to get out."
The player said he sought refuge in the toilet until his mother came to collect him.
He said he was given naked soapy water massages by Mr Higgins, which were "more thorough" than with other coaches.
Alistair MacDonald QC, defending, suggested the player's "false claim of low-level sexual activity" was "very vague".
"In your police interview, you said you asked yourself many times, 'did I make it up?'", he told the player.
The footballer admitted he was "pleased to see" Mr Higgins in later years.
"Everybody's different, we deal with things differently," he told the jury.
He denied inventing the offence to support a "more courageous" friend who had made an earlier complaint of sexual assault.
The court was also shown a video of a police interview by a Southampton FC trainee who said he allowed Mr Higgins to sexually abuse him after being "devastated" at being dropped from the team.
Mr Higgins is accused of three indecent assaults against the boy.
The teenager, referred to by the court as Complainant B said he let Mr Higgins "do what he wanted" during naked soap water massages.
"I felt that it wasn't right. I just shut my eyes," the complainant told police.
The man, who cannot be named for legal reasons, said he had felt his chance of a football career was in Mr Higgins' hands.
"The first night I tensed myself. The second I was relaxing," he told police in the video played in court.
"I thought I would just let him do what he wanted."
The dates of the alleged abuse and the complainants' ages at the time cannot be revealed for legal reasons.
Mr Higgins, from Southampton, is accused of attacking 24 teenagers, mostly football club trainees.
The trial continues.