Grindr date rapist Sam Ashley drugged victims in Portsmouth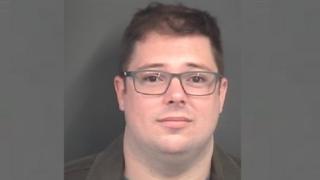 A man who used a gay dating app to find victims he could drug and rape has been jailed for 23 years.
Sam Ashley, 30, contacted men on Grindr before meeting them in Portsmouth, the Crown Prosecution Service (CPS) said.
Ashley would then drug them without their knowledge and attack once they were left in a "stupefied" state.
He was found guilty at Portsmouth Crown Court of four rapes, four charges of administering a substance with intent and two counts of attempted rape.
Ashley, also know by the surname Davis, from Fareham, had denied all 10 charges which related to attacks in 2016.
He met three of his victims on Grindr and one at a rugby club, the CPS said.
Three of the men raped had their drinks spiked while another thought he was being offered painkiller tablets for a headache.
'Dangerous and manipulative'
Lindsay Pennell, of the CPS, said: "Ashley went on to rape or attempted to rape three of the victims while they were stupefied as a result of consuming the drugs GHB, diazepam, zopiclone or a combination."
She added Ashley had been convicted thanks to expert evidence from a consultant toxicologist and the testimony of the victims.
Det Insp James Stewart, of Hampshire Constabulary, said he hoped the sentence would help Ashley's victims "move forward with their lives".
"Ashley is a dangerous and manipulative man who befriended and deceived his victims, which has understandably had a profound impact on the victims and their friends and families," he said.
"I hope this case encourages other victims of sexual offences to come forward."