Bob Higgins trial: Trainee 'gave up football after abuse'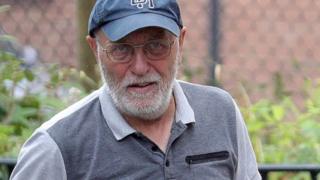 A trainee at Southampton FC gave up playing football for good after being groped by a club youth coach during a naked massage, a court has heard.
The complainant, who cannot be named for legal reasons, said Bob Higgins "broke my heart" by abusing him at a training camp.
"I was living the dream at 14... but after that I never played football again," he told Salisbury Crown Court.
Mr Higgins, 65, denies 50 counts of indecent assault against teenage boys.
The charges, dating between 1971 and 1996, arose after the NSPCC set up a helpline to deal with sexual abuse in football, the jury has previously been told.
The alleged victim, known to the court as Complainant D, said Mr Higgins was "like a god" and a "father figure" to him.
But he said their relationship changed after Mr Higgins sexually touched him during a soapy water massage.
"I was really confused. I was disgusted with myself," he told the jury.
Later he ignored Mr Higgins after being called to see him.
"I knew I'd probably kissed goodbye to any change of continuing with Southampton," he said.
"I didn't want to play football any more. I was uncomfortable around football people."
Another former trainee said Mr Higgins assaulted him by reaching into his shorts and pinching him while he was sitting on the defendant's lap.
The man, known as Complainant E, also described how on another occasion the youth coach pulled over on a car journey and questioned him about how puberty had changed his body.
"He was really aggressive with it and I was crying," he told the jury.
Mr Higgins, from Southampton, is accused of one assault against each of Complainants D and E as well as abusing 22 other teenagers.
The trial continues.