Bob Higgins trial: Ex-Southampton coach 'was messiah to trainees'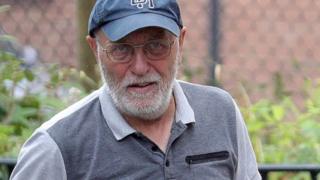 A former youth coach was described as "the messiah" to young footballers by a former Southampton FC trainee who claims he was abused by him, a court has heard.
The complainant told police he stayed with other boys at Bob Higgins' home where the abuse took place, Salisbury Crown Court was told.
He said he later developed a phobia about eating at other people's houses.
Mr Higgins denies 50 counts of indecent assault against boys from 1971 to 1996.
The court was shown a video of a police interview with the complainant, who cannot be named for legal reasons.
Jurors heard him describe sitting alone on a sofa with Mr Higgins watching TV when the defendant began touching him inappropriately.
He said Mr Higgins, who also invited him to extra training sessions, "had a look" and told him he had "nothing to worry about".
"I was scared and didn't know what to do. I was terrified. I didn't know where it was going to go," he added.
"I didn't have the courage to get out. I felt trapped."
He added: "From that day I have had a phobia about eating around people's houses unless they are close friends or family."
On another occasion at Mr Higgins' home, the jury heard the complainant ran from the dinner table and vomited in the kitchen sink as he was "absolutely terrified about what was going to happen".
He described Mr Higgins as "the messiah" for young footballers and "very, very good at what he did".
He also said the defendant would "always" shower with the groups of 12-16 year old trainees after training sessions.
"There wasn't any contact but looking back it was a bit unusual," the complainant added.
In the police video, he said he told no-one about the alleged incidents until calling the NSPCC as he was "scared and embarrassed".
'Too many times'
Another complainant described "rituals" of soap water massages after training sessions in a police interview shown to the court.
The former trainee said Mr Higgins would touch his genitals, and added: "It's just what happened. It was laughed off but it happened too many times."
He said there were always "loads of boys" staying at Mr Higgins's home and he would offer to drop children home after training or matches.
"You'd be rewarded for spending extra time with him, it was part of his mental control," he said. "This guy could get you the dream - a contract with Southampton."
Describing one occasion when he was abused, he said: "There was the chat around how he can make me a star - everything a 14-year-old boy wants to hear. His right hand had already slipped into my shorts."
The complainant also said boys would be given massages by Mr Higgins, but added: "There was no technicality, no specific need or response to an injury - it was an excuse to get naked boys on a bench."
The charges Mr Higgins faces arose after the NSPCC set up a helpline to deal with sexual abuse in football, the jury has previously been told.
Mr Higgins, 65, from Southampton, is accused of abusing 23 other teenage boys.
The trial continues.