Netley Abbey ruins shut amid safety concerns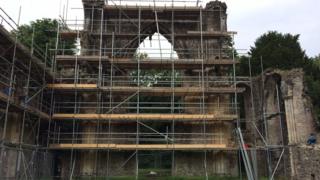 Netley Abbey, a ruined Cistercian monastery in Hampshire, has been closed to the public amid safety concerns.
English Heritage has taken the decision after scaffolding set up in the nave for conservation work was found to "fall far short" of expected standards.
Photos show the six-storey structure was left unfenced with useable ladders giving unrestricted access.
A charity spokesperson said: "We were alarmed to see the way the scaffolding was left by the contractor."
It is not yet known when the attraction, normally open daily for visitors, will reopen to the public.
English Heritage said: "We are taking immediate steps to ensure that it is rectified. In the meantime the site has been closed as a precaution."
A conservation project is currently underway at Netley Abbey to remove overgrown vegetation from the walls and repoint open mortar joints.
The work is centred on the nave of the 13th Century abbey church and is due to be completed by the autumn.
Netley is the most complete surviving abbey built by the Cistercian monks in southern England.