Newport death: One-punch killer's appeal dismissed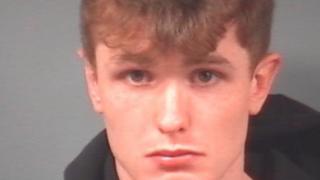 A law student who killed a father-of-10 with a single punch during a night out drinking has had an appeal against his conviction dismissed.
Gary Stacey, 49, died from brain injuries following an altercation with Ryan Cooper in Newport on the Isle of Wight in 2016.
The 23-year-old karate black belt was found guilty of manslaughter and given a six-year sentence in April last year.
The Court of Criminal Appeal dismissed his appeal on Friday.
Cooper's trial at Winchester Crown Court heard he had been ejected from a Yates's pub for being drunk on a night out with friends on Valentine's Day.
Earlier in the evening he had posted on Facebook about taking "the biggest line of cocaine" as well as drinking "half a litre of vodka".
Cooper's defence maintained he threw a punch in self-defence after a "verbally threatening" Mr Stacey approached him "marching with aggressive nature" and with clenched fists in St James Street shortly before 04:00 GMT.
The jury also heard a recording of the 999 call in which Cooper, of Alma Road, Southampton, phoned the police to hand himself in.
The prosecution said his version of events was "a campaign of cover-ups and lies" after an unprovoked attack.
Passing sentence, Mr Justice Warby said Cooper had not acted "in lawful self-defence" when he struck Mr Stacey with a "powerful punch".