Dead UK fighter was 'outstanding hero', coroner says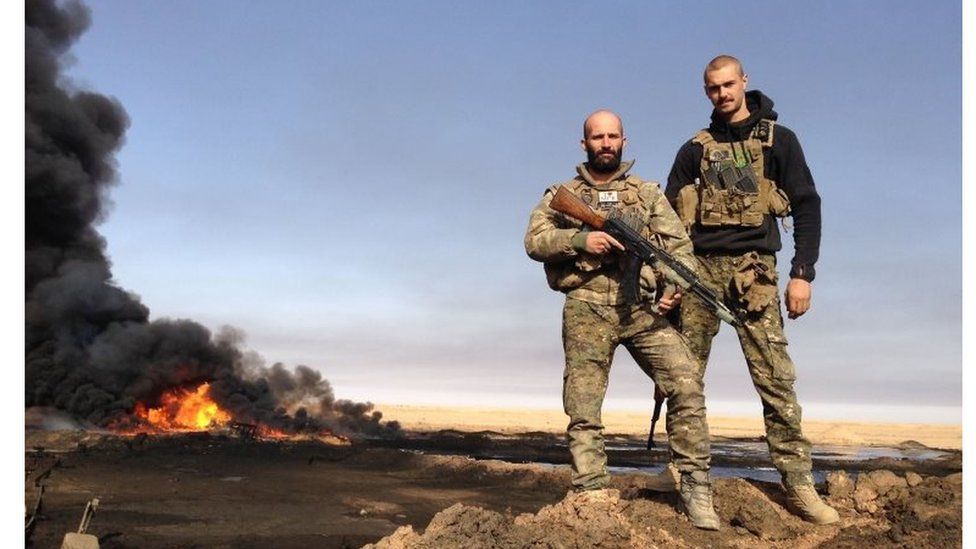 A British volunteer fighter who died in an explosion in Syria was an "outstanding example of courage and self-sacrifice", a coroner has said.
Oliver Hall, 24, was killed in Raqqa in November after joining Kurdish forces to fight the Islamic State group.
His injuries suggested he stepped on a mine or a booby trap, the inquest in Portsmouth was told.
In a narrative verdict, coroner David Horsley said Mr Hall was a "hero" to Kurds.
Giving evidence, Mr Hall's mother, Jane Lyndon, said she was unaware of his plan to go to Syria until he texted her after leaving.
"He had talked about terrorist attacks in Barcelona, London, Manchester. He was really bothered the government wasn't doing enough ... he was mad about them," Ms Lyndon said.
She said she had learned her son, known as Ollie, had been asked by a Kurdish man to make his home safe from explosives.
Mr Hall and a Kurdish YPG soldier entered the property and triggered a blast which the second man survived, she said.
A Foreign Office forensic pathologist said there had been two successive explosions.
Dr Brett Lockyer said Mr Hall died from multiple traumatic injuries "consistent with stepping on something".
Jonathon Duncan, who had known Mr Hall since the pair's school days in Gosport, said his friend "talked of helping in refugee camps and clearing booby traps and mines" in reports from Syria.
Coroner David Horsley said Mr Hall "gave his life to protect the safety of others".
"He was someone who felt deeply about the world and its problems and resolved to do something about it himself to bring an end to terrorism and repression," he added.
The Foreign and Commonwealth Office continues to warn against all travel to Syria.