Bob Higgins trial: Billy Seymour 'not ready to reveal abuse'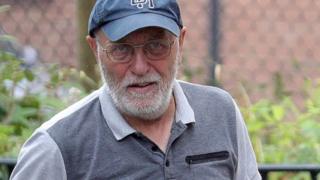 An ex footballer was "not ready" to discuss allegations of abuse by former Southampton youth coach Bob Higgins when he was interviewed by police in 1990, a jury was told.
Billy Seymour, 47, did not reveal the alleged abuse in Mr Higgins' car and home in a statement given to a previous inquiry, Salisbury Crown Court heard.
Mr Higgins was cleared at a trial in the 1990s for similar offences.
The 65-year-old denies 50 counts of indecent assault against teenage boys.
In the witness box, Mr Seymour was asked by defence barrister Alistair MacDonald QC why the "very memorable events" were not included in his 1990 statement.
Mr Seymour, who has waived his right to anonymity, told the court: "I was not ready - mentally, physically or emotionally - to divulge the horrific things that had happened to me.
"I knew something was seriously, seriously wrong. I was just not ready to deal with it at that precise moment."
"That's because it never happened," said Mr MacDonald. To which the witness replied: "It certainly did happen."
Mr Seymour said he contacted the NSPCC in 2016 and made another statement to police after his life had "unravelled" and he had spent time in prison.
The jury was shown a video recording on Wednesday in which the witness described being given lifts home from training sessions when Mr Higgins encouraged him to put his head on his lap.
He said the coach would play the Whitney Houston song The Greatest Love of All on the car stereo.
The court heard Mr Seymour was later invited to stay at Mr Higgins' house.
He said on occasions he was called into Mr Higgins' bedroom in the morning when he was naked in bed and was told to get into bed with him.
The jury also heard the coach became "emotional and angry" when Mr Seymour told him he wanted to leave Southampton to join the FA's national school at Lilleshall.
"He said 'Billy, I love you' and got down on his knees and cried. I just ran. It was a horrible horrible thing to see," Mr Seymour said.
Mr Higgins, from Southampton, denies six counts of indecent assault against Mr Seymour.
In total, the former coach is accused of indecently assaulting 24 teenagers, mostly football club trainees, between 1971 and 1996.
The trial continues.