Isle of Wight Studio School closure date confirmed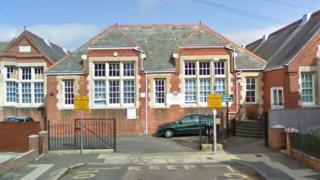 A school on the Isle of Wight will close in the summer of 2019, the Department for Education has confirmed.
The Isle of Wight Studio School, which prepares pupils for careers in marine manufacturing and renewable energy, is being shut down after just five years.
A DfE spokesperson said ministers had taken the decision as the school was operating at 40% capacity.
Pupils who applied to join the school in September will be offered a place at a suitable alternative, the DfE added.
A final decision on the closure date was made after parents were consulted.
The school, for 14 to 19 year olds, currently has 120 pupils - 71 in Year 11 and 49 in Year 10.
It opened in September 2014 and is run by the Inspire Academy Trust, but closed its sixth form last year because of "insufficient demand".
Studio schools combine academic studies with work-based training.
A DfE spokesperson said: "Ministers have decided the school, which is operating at 40% capacity, should close."
In statement the trust said: "We have been humbled by the strong support shown by parents and students, which is a testament to the dedication and expertise of all the staff.
"However, it is a sad reality that such a small school cannot continue long-term."