'Isle of Wight Festival balloons' sea litter 'appalling'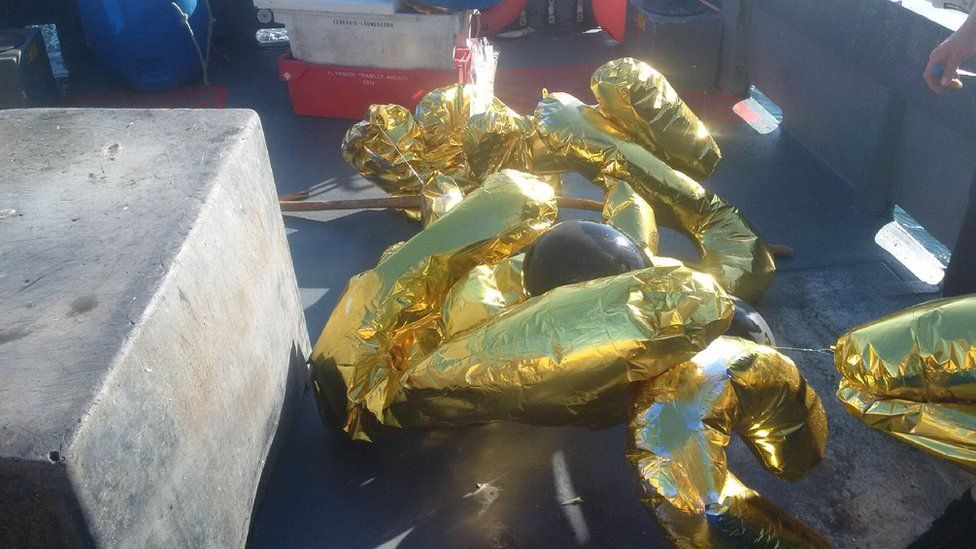 Fishermen have criticised the Isle of Wight Festival after finding several large balloons - believed to be from the festival - in the sea.
The gold foil balloon letters, which appear to spell out the word "festival", were found 10 miles south of Ventnor on Monday and Tuesday.
Ventnor Haven Fishery said it was "appalled" by the litter.
Organisers of the festival, which ran from Thursday to Sunday, have not yet responded to a BBC request for comment.
The festival, which is based at Seaclose Park in Newport, supports green campaigns including Love Your Tent which encourages revellers to re-use rather than discard their tents.
Richard Storey, of Eco Action Partnership, which runs the campaign and has worked with the festival for 11 years, said festival organiser John Giddings had "always been so supportive of the campaign" which he added was "a refreshing change".
"A festival with 55,000 people attending can only be as green as it can be," he added.
Ed Blake, of Ventnor Haven Fishery, said: "With the recent attention on plastics polluting the seas and oceans we are appalled by what appears to be concerted littering by the Isle of Wight Festival.
"Balloons are not only a hazard to sea creatures that may mistake them for food but they are also a shipping hazard, as from a distance we first thought the gold balloons were an upturned boat."
He added balloons were not "an uncommon sight" in the English Channel.
"We find four or five lots a day - it's a massive problem," he said.
Related Internet Links
The BBC is not responsible for the content of external sites.