Bob Higgins trial: Coach 'carried out sex abuse at new club'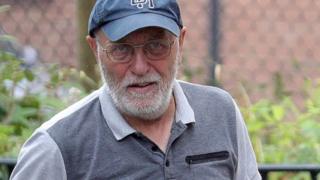 A football coach who left Southampton FC because of allegations of sexual abuse against trainees went on to offend at Peterborough United, a court has heard.
An ex-Peterborough apprentice said Bob Higgins invited him to his home where he assaulted him, jurors heard.
He said Mr Higgins had told him "all I ever did was love those boys", referring to trainees at Southampton.
Mr Higgins, 65, denies 50 counts of indecent assault against teenage boys.
The former Peterborough apprentice said Mr Higgins invited him to spend time with him at his home in Southampton for extra training, Winchester Crown Court heard.
During the stay, the then Peterborough youth team coach explained why he had left his hometown club, jurors heard.
"All I ever did was love those boys," Mr Higgins reportedly said.
The ex-apprentice, known to the court as Complainant V, said he was assaulted 10 to 20 times in Mr Higgins' home.
"I learned that if I cried he tended to stop, tell me to toughen up," the complainant told the jury.
The former player said the coach demanded "special signals" from him to show he was thinking about him during team minibus trips.
Later the coach asked the player to show more affection by putting his hand inside the defendant's shirt, he said.
"He was my role model, like a father figure, my main support and carer," the complainant told the court.
Later he said he realised Mr Higgins "was a man who'd abused his position of power, a man who manipulated me as a boy, a man who had not been a positive role model for me".
He said he put up with the abuse because he feared he would be "kicked out of the football club".
Defence barrister Alistair MacDonald QC asked the complainant why no team-mate had ever remarked on the alleged touching in the minibus.
"It was done very carefully," the complainant replied.
The court heard the complainant first made allegations to the police in 2012 but no charges against Mr Higgins were brought.
He later contacted the children's charity the NSPCC to restate his complaints.
Mr Higgins denies assaulting 24 teenage boys, mostly football club trainees, between 1971 and 1996.
The trial continues.