Called 30 times an hour after phone scammers hijack number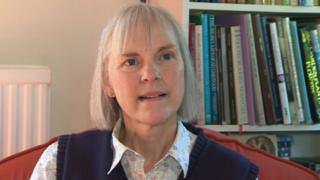 A woman has described how scammers "invaded her life" after they hijacked her phone number.
Joan Denton-Thompson, who lives near Winchester, spent two weeks being bombarded by calls because an oversees company was using her number in a scam.
At its height she received more than 1,500 messages a day from people replying to a call apparently made from her number.
BT claimed it "acted quickly to block and blacklist the number".
Mrs Denton-Thompson said she suddenly started receiving calls every two or three minutes at the start of last week.
She said many of the calls were from elderly people who sounded distressed after responding to an unexpected call from what appeared as Mrs Denton-Thompson's number.
The scammers had claimed to be from BT and offered to help with a problem on the victims' computer or telephone for a fee.
"I felt very worried for them. I felt quite unwell some days - the volume of calls in that first week was phenomenal, it was a really stressful time.
"It totally invaded my life and the life of everybody. We couldn't use our phone and people couldn't phone us."
A BT spokesman said it had initially thought the issue could have been caused by a crossed line before its systems later picked up the number being used as a "potential spoofing" from overseas.
"We acted quickly to block and blacklist the number to prevent any further nuisance calls. We continue to advise customers to report nuisance calls."
Mrs Denton-Thompson called for phone companies to take action to better protect their customers from nuisance calls.