Island hospital calls for extra beds to cope with heatwave patients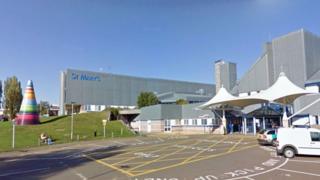 Extra beds have been opened at an Isle of Wight hospital to cope with an influx of people due to the heatwave.
St Mary's Hospital has seen more that 50 extra people a day come into it's emergency department.
About 180 patients are visiting a day, with the majority suffering from heatstroke or dehydration.
The hospital has opened 15 extra beds at the Newport hospital, in addition to its usual 244, to cope with demand.
Chief executive of the Isle of Wight NHS Trust, Maggie Oldham, said: "We really need people to be careful and take care of themselves."
'Easily prevented'
She urged people to remember to wear suncream, stay out of the sun and wear a hat, as temperatures are expected to stay above 20C until Thursday.
Mrs Oldham said: "Patients are coming in and being put on a drip for a day but if they had stayed hydrated, it could have easily been prevented.
"No one wants to spend their time on holiday waiting in hospital for treatment."
People are being advised to ring 111, or register as a temporary patient with an Island GP if they are visiting, to avoid congestion at the hospital.
She added: "If you do really need help, come to us. But we want to avoid front-line services being congested with people who don't need to be there."