Bob Higgins trial: Accused coach 'had row over Mormon player'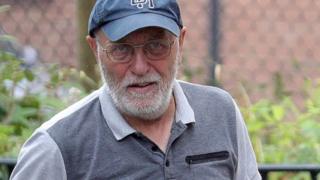 A former Southampton football coach accused of abusing trainees had an angry dispute with a club official who later raised concerns about him, a court has heard.
Bob Higgins 65, denies 50 indecent assault charges against teenage boys.
Giving evidence, he said apprentice team manager Dave Merrington had threatened to end his career.
He told the jury Mr Merrington had told a Mormon player to "go out and get drunk if he wanted to be a footballer".
Mr Higgins said he had been approached by the apprentice who was "crying and really upset" over Mr Merrington's instruction.
Mr Merrington became "very irate" when he confronted him about the issue, Winchester Crown Court heard.
The defendant said he was supported in the dispute by the club chairman and was asked to take over senior scouting roles from Mr Merrington.
The club also gave him a "pastoral role" to look after the welfare of young players, the jury heard.
Mr Higgins said he later accepted the "national youth job" with the Malta Football Association, a job which he said Mr Merrington had wanted.
The defendant told the court that allegations made by Mr Merrington about "sexual innuendos" heard from players had been raised with the club but "went no further".
A few months later Mr Higgins was arrested and sent for trial on eight counts of indecent assault but later acquitted, the jury was told.
Remaining charges against him were later dropped when prosecutors offered no evidence, the court heard.
Soap-water massages
Mr Higgins was asked by his defence barrister about former youth players who have given evidence against him in the current case.
Asked about a complainant who had accused him of repeated assaults during soap-water massages, Mr Higgins said he could not remember him.
Mr Higgins said another complainant chatted with him and visited his home, long after abuse was alleged to have taken place.
A third trainee would not have found club offices deserted as he had claimed, because other youth players would have been returning from matches, Mr Higgins told the jury.
Mr Higgins, 65, denies 50 indecent assault charges against teenage boys between 1971 and 1996.
The charges arose from calls to an NSPCC helpline which was set up in 2016 to deal with abuse in football, the court has previously heard.
The defendant is accused of abusing 24 teenage boys, most of them trainees at Southampton and Peterborough United.
The trial continues.