Bob Higgins trial: Accused coach 'banned girlfriends'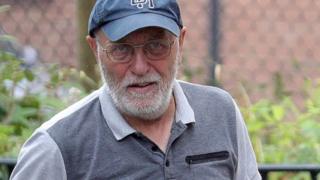 A former Southampton football coach accused of abusing trainees told players not to have girlfriends, a court has heard.
Bob Higgins, 65, denies 50 charges of indecent assault against teenage boys.
Mr Higgins told the court trainees were collectively told to "concentrate totally on their football".
He said: "We had players who didn't turn up because of training suddenly and we found out a girlfriend was the reason."
He told Winchester Crown Court he never spoke "one-to-one" about it with trainees.
Defence barrister Alistair MacDonald QC asked Mr Higgins about claims he groped a trainee at his house before a trip to Old Trafford.
Mr Higgins denied touching the boy and said there had been no trip to Old Trafford.
He said the boy was not taken on by the club because he was "not good enough".
'Best times'
When asked about another complainant, Mr Higgins told the court the player had been "devastated" after being told he would not be signed.
Mr MacDonald read a letter received by Mr Higgins from another complainant which said: "How much I appreciated all those hours you put in getting me where I am today."
Mr Higgins said he had seen another complainant years after he had been a trainee and had "many conversations about the past, football, everything".
He said the man told him "his best times had been as a young player".
When asked, Mr Higgins denied ever giving massages to players alone and denied his massage technique was any different to other coaches.
The court previously heard the charges arose after an NSPCC helpline was set up in 2016 to deal with abuse in football.
The defendant is accused of abusing 24 teenage boys, most of them trainees at Southampton and Peterborough United, between 1971 and 1996.
The trial continues.