New Forest heath-land destroyed by fire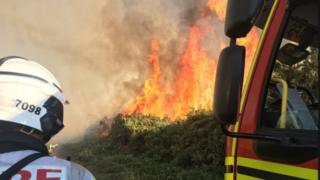 A large area of heath-land in the New Forest National Park has been destroyed by fire.
The blaze, off Badminston Lane in Fawley, Hampshire, started at about 18:15 BST on Tuesday.
About 2.5 hectares (6 acres) of land was affected.
Twenty firefighters, three fire engines, four Hampshire Fire Service 4x4 vehicles, as well as its wildfire vehicle, were sent to the scene. The fire was put out by about 23:00.