Two escape as aircraft crashes in trees near Winchester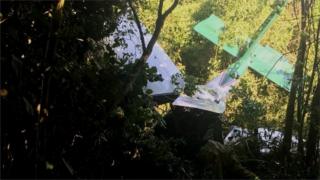 Two men escaped "with only scratches" after their light aircraft crashed into trees in Hampshire.
The fire service said the plane "crash landed" in trees and bushes on farmland off Morestead Road near Winchester on Saturday afternoon.
Crews from four stations and the ambulance service were called shortly after 15:15 BST but the men had climbed out of the plane before they arrived.
Police tweeted the pair had been "luckiest people" to have walked away.