Mutiny Festival to change name after deaths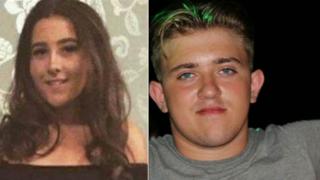 A music festival where two people fell ill and later died will continue under a new name, organisers have said.
Georgia Jones, 18, and Tommy Cowan, 20, died after attending Portsmouth's Mutiny Festival in May. Five people were later arrested on suspicion of drugs offences.
Organisers said the event would take place next year but the Mutiny name would be "retired" out of respect.
It also said entry would be restricted to those over 18.
Ms Jones fell ill at the event at King George V Playing Fields in Cosham shortly after 19:00 BST on 26 May. Mr Cowan - also known as Tommy Bakeer - was found collapsed about 20 minutes later.
Fifteen other people received treatment at Queen Alexandra Hospital, including one who was initially described as being in a critical condition.
Performances on the Sunday were cancelled following the deaths and organisers admitted refunds had not yet been issued for that, but insisted "we are not closing the company or going into administration".
In a statement, festival bosses said: "We will be retiring the Mutiny Festival name as a mark of respect, but it'll take place at King George V Playing Fields on the same Bank Holiday weekend featuring many of last year's Sunday artists who have kindly rescheduled."