Firm brought in to tackle problem plagued ferry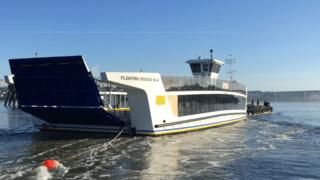 A shipbuilding company has been brought in to fix the ongoing issues with the troubled Isle of Wight chain ferry.
Currently the Floating Bridge service at East Cowes is unable to run in all tide conditions.
Isle of Wight Council says Wight Shipyard will look at issues including the water depth above the chains and its prow to try and reduce noise.
The £3.2m Floating Bridge Number 6 has been beset by problems since entering service in May 2017.
Car bumpers were scraped while disembarking and it suffered an electrical fault on its second day in use.
It has been in and out of service ever since, beset by numerous problems, including night-time noise, running aground and a broken prow chain.
Currently, the floating bridge cannot run during a fast-flowing spring ebb tide due to issues with the chain depth under the water which poses issues to other vessels.
The authority said the cost of the improvement work "will only be known when a design solution is chosen by the council following a procurement process".
Mainstay Marine, which built the ferry is said to be working with the council and the shipbuilders to resolve the issues.
More than 120,000 people and 48,000 vehicles have used the ferry between April and June, according to the council.
The chain ferry crosses the River Medina from East Cowes to Cowes saving a 12-mile (19km) detour.
---
Floating bridge timeline:
13 May 2017 - Vessel launched
14 May - Broke down
15 May - Service suspended by Maritime and Coastguards Agency
7 June - Ran aground
9 June - Ran aground for a second time
9 June - Council said it had cleared "silt build-up that caused the floating bridge to ground"
10 June - Ran aground a third time
13 June to 3 July - Taken out of service at low tide
30 June - Broke down due to electrical fault
21 July - Withdrawn from service at night due to noise levels
4 September - Withdrawn from service indefinitely
11 December - Service resumed as part of extended trial
2 February 2018 - Broken prow chain
14 April - Ran aground
15-16 July out of service for "improvements"
Ongoing - unable to run during low tides
---