Isle of Wight ferry fire 'caused by engine debris'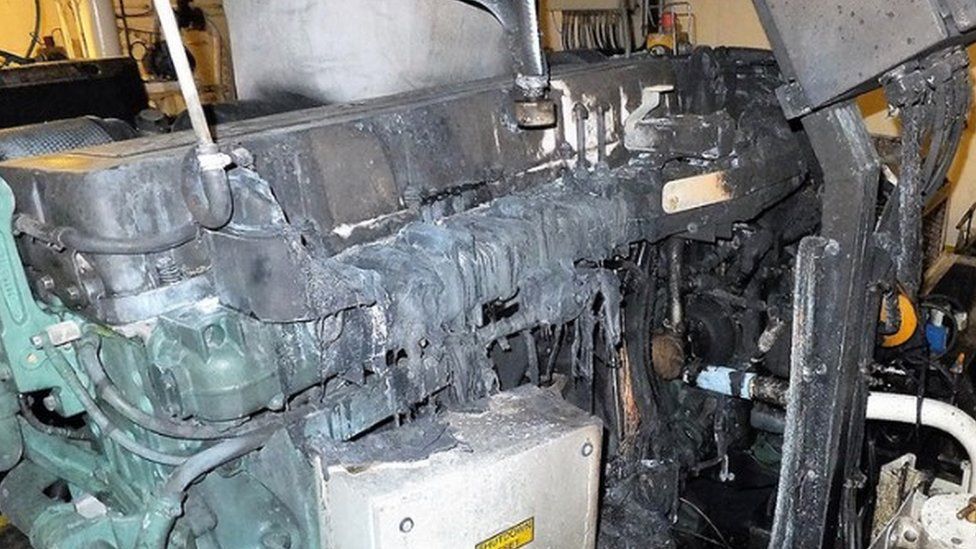 A ferry fire that seriously injured an engineer was probably caused by debris in the engine, a report has found.
The blaze broke out on Wight Sky on 12 September during the 21:00 BST sailing from Lymington, Hampshire.
The ship's engineer was hospitalised for a week with severe burns to his hands and face.
The Marine Accident Investigation Branch (MAIB) found the fire happened five hours after an engine rebuild by RK Marine.
The report found, following an examination by the vessel's engine maker, "the most probable trigger" for the failure was debris in the engine's oil channels.
MAIB said the injured engineer brought the flames under control in less than two minutes.
However, he was subsequently diagnosed with post-traumatic stress disorder and "had not returned to work at the time of publishing this report".
Following the blaze, all 40 passengers disembarked safely from the vessel in Yarmouth.
Investigators found the engine was not fitted with a wear detector, so there was no means of receiving a warning before the engine failed.
Operator Wightlink said: "We are sorry our engineering colleague on board Wight Sky was badly injured and are doing our best to support him in his ongoing recovery.
"Immediately after the incident, we agreed with our supplier RKM that major engine rebuilds and the complete loading of engines will take place at its workshops rather than onboard our ships."
Related Internet Links
The BBC is not responsible for the content of external sites.