Suitcase stowaway scorpion stings Waterlooville woman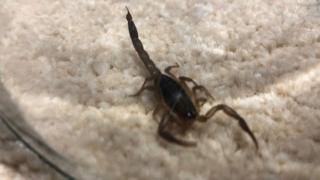 A woman has been stung on the hand by a scorpion that emerged from her suitcase after she returned from holiday.
The woman, from Waterlooville, unwittingly brought the stowaway home from Costa Rica.
After an initial assessment at the scene, she made her own way to hospital for further assessment, the ambulance service said.
It is not known what happened to the scorpion, which was captured under a glass.
The woman was described as being "fairly well but a bit shocked".