Southsea's South Parade Pier restoration in final stage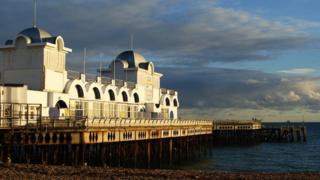 The final stage of works to restore a Victorian pier that was once deemed a dangerous structure have begun.
South Parade Pier in Southsea, Hampshire, reopened last year after being brought "back from the brink" of collapse.
The £200,000 works will restore the mooring deck at the end of the pier, the Local Democracy Reporting Service said.
The restored facilities are expected to be available by September.
A spokesman for Tommy Ware, one of the pier's owners, said: "It was the only thing that remained to be done to bring the pier back to how it used to be."
Portsmouth City Council leader Gerald Vernon-Jackson said: "Personally, I think the whole city owes the Ware family and their colleagues a debt of gratitude for bringing the pier back into use."
Leisure councillor Steve Pitt said the authority was working on initiatives for the facility, including using it for Portsmouth Sailing Trust yachts when they take young people out on The Solent.
South Parade Pier opened in 1879, but was destroyed by fire in 1904 and rebuilt in 1908.
In 1974 it was again wrecked by fire during the filming of Ken Russell's Tommy and part of the superstructure rebuilt.
The pier was shut in 2012 when the council served the previous owners with a dangerous structure order.
The deck was removed in 2014 after it was damaged by storms.
South Parade Pier Ltd, led by Tommy Ware, bought the structure in 2014 for an undisclosed sum and in April 2017 - after £5m investment - the first 51m (167ft) was reopened.
The Gaiety Bar entertainment venue reopened in October.
In April this year the Grade II listed structure was voted Pier of the Year, with the National Pier Society saying it was brought "beautifully back from the brink".