Hampshire fatal crash driver 'caught on pub CCTV'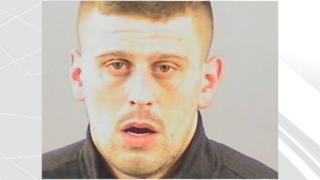 A drink-driver who killed a cyclist has been jailed after the police used phone data and CCTV from three pubs to help establish his guilt.
Samuel Woolley, 27, fled the scene after fatally injuring 32-year-old Richard Gardner in Southampton.
The CCTV showed Woolley drank at least six pints and a shot of Jägermeister before the crash on 22 December.
Woolley, of Bartley, Hampshire, was jailed for five years and four months after admitting two driving offences.
Mr Gardner, from Southampton, was hit by a car in Brownhill Way at about midnight on 22 December.
He died later in hospital, Southampton Crown Court was told.
Woolley fled the scene to cover up the fact he had been drinking, the prosecution said.
He was only breathalysed five hours later, after his father contacted the police.
Data from his phone helped the police to identify three pubs which he had visited before the crash.
Detectives then recovered CCTV from the venues which showed Woolley had been drinking for eight and a half hours.
'Worried about himself'
Woolley, of Rockram Close, pleaded guilty to causing death by careless driving while over the limit and failing to stop after an accident.
As well as being jailed, he was disqualified from driving for six years and eight months and was ordered to do an extended re-test.
PC Lucy Hawkin said: "All he was worried about was himself and how he could avoid being caught drunk behind the wheel.
"He didn't bank on... a full and thorough investigation that would clearly prove his drink-driving was the cause of this tragic collision."