Southampton £85m leisure complex closed by freezer fire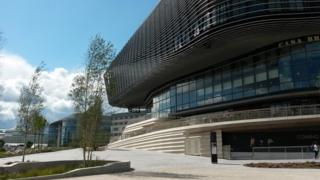 A newly-opened restaurant and leisure complex was evacuated after a fire broke out in a cinema freezer.
The £85m WestQuay South centre in Southampton was closed at about 16:30 BST on Saturday.
The building was damaged when sprinklers which extinguished the fire "leaked excess water", Hampshire Fire and Rescue Service (HFRS) said.
The cinema and some restaurants said they were closed for all of Saturday evening but reopened on Sunday.
HFRS said the "small fire" had been put out by sprinklers even before the fire service was alerted by the building's detection system.
The building was handed back by HFRS to WestQuay management at about 20:00.
The first of 20 restaurants at the leisure hub opened in December 2016, with the "UK's first all-laser cinema" opening two months later.
In a statement, cinema operator Showcase said customers had been offered refunds or new tickets.
WestQuay South's management has been approached for comment.