Alleged paedophile bailed before extradition to US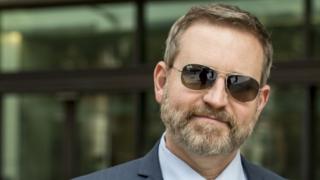 An alleged paedophile who was on the FBI's most wanted list is to be released from prison in the UK days before he is extradited to the US.
US national Roger Giese, 43, who has been living in Southampton, is wanted for trial in California charged with sexually abusing a boy aged under 14.
Mr Giese was remanded in custody on 19 July after a High Court challenge against his extradition failed.
He was bailed after his lawyers said he needed to put his affairs in order.
High Court judge Mrs Justice Davies released the former choirmaster on Tuesday under conditions, including a £10,000 security deposit and an electronically-monitored curfew between 16:00 and 10:00 BST.
He must also report to his local police station each day and his passport has been retained by the authorities.
Mr Giese's lawyers said he needed time to put his business affairs in order and to deal with the "emotional aspect" of separating from his partner.
The High Court previously ruled his removal would not be an "abuse of process" or violate his human rights.
He was refused leave to appeal to the Supreme Court and is due to be returned to the US on Friday.
The High Court previously heard Mr Giese befriended the alleged victim while working as a voice coach for the All-American Boys Chorus in 1998.
He emptied his bank account and fled to the UK on the eve of his trial in 2007, leaving his family behind, the court was told.
Mr Giese was eventually found in Hampshire, working for a PR firm and living under a different name with a woman who did not know his true identity.
As well as child sex offences, US Federal authorities also issued a warrant for his arrest on a charge of "unlawful flight to avoid prosecution".