Waterlooville teacher banned over sexual misconduct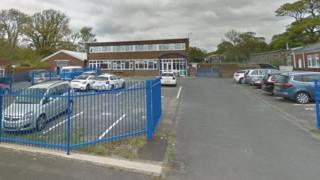 A teacher who made sexually explicit comments to colleagues has been permanently banned from teaching.
Luke Farrant, 27, bombarded at least two members of staff at Jubilee School in Waterlooville, Hampshire, with inappropriate Snapchat messages.
He also grabbed and tried to kiss co-workers at the school for children with special educational needs, a professional misconduct panel heard.
Mr Farrant also messaged a pupil on Facebook saying "I think you're hot".
'Lack of remorse'
On more than one occasion, his comments to staff, including "I had loads of girls this week, a different one on every night of the week... come on you could be tonight's", were made in front of pupils.
The panel decided Mr Farrant was guilty of unacceptable professional conduct between September and December 2016.
It ruled the "involvement of pupils and the lack of either insight or remorse" meant he should not be entitled to apply for restoration of his eligibility to teach.
Mr Farrant is prohibited from teaching indefinitely and cannot teach in any school, sixth form college, relevant youth accommodation or children's home in England.