UK's first air-cleaning bus unveiled in Southampton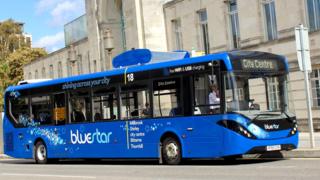 The UK's first bus that can filter pollution from the air has been unveiled in Southampton.
The Bluestar bus has a filter system on its roof which removes particulate air pollution and blows out pure air behind it, operator Go-Ahead said.
The diesel-powered prototype will clean the air on its route 16 times per year.
Southampton was chosen for the trial because the World Health Organisation revealed it had reached its limit of unsafe air pollution.
The success of the scheme will be measured by weighing the filter on the bus before the trial starts and when it finishes to see how many particles have been trapped in the filter.
The trial is expected to run for a minimum of three months.
If successful the idea could be rolled out across the Go Ahead fleet of around 4,600 buses, the company said.
Southampton is one of five English cities preparing to introduce clean air zones by 2020.
A pollution charge is also being proposed in the city - older lorries, buses and coaches could be charged £100 a day to enter the city perimeter from 2019.
The bus will initially run on the number 7 route through Lordshill - Sholing via the general hospital, Millbrook, Shirley, City Centre and Woolston.