Veterans sought for D-Day anniversary events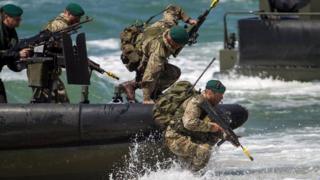 D-Day veterans are being asked to take part in "significant commemorations" to mark the 75th anniversary of the Normandy Landings next year.
The Ministry of Defence said major events were planned in Portsmouth and Normandy on 5 and 6 June 2019.
Details are yet to be confirmed but Southsea Common is expected to provide the focus with a ceremony and flypasts.
The Royal British Legion is asking veterans to register their interest online.
Defence Minister Earl Howe said: "We will work hard to help our veterans mark this significant anniversary on the south coast and in France.
"Portsmouth was a key part of the D-Day operation, from the headquarters at Southwick House to the huge marshalling areas and embarkation points."
The Normandy Landings began on 6 June 1944, when Allied forces launched a combined naval, air and land assault on Nazi-occupied Europe, with much of the landing force setting off from Portsmouth.
City councillor Steve Pitt said: "D-Day was a pivotal moment in the Second World War, and it's important to continue commemorate the anniversary in recognition of our veterans, celebrate the contribution of our current service personnel and showcase our military history in a way that only Portsmouth can."