US aircraft carrier arrives off Portsmouth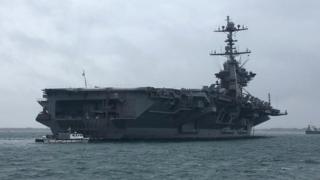 Thousands of men and women serving on the US warship USS Harry S Truman have begun coming ashore after it arrived off the south coast of England.
The aircraft carrier will be anchored in The Solent for five days following its arrival on Saturday morning.
The crew of more than 5,000 has been at sea since late August.
The 20-storey-high vessel, which can be seen from Gosport and the Isle of Wight, will be anchored in The Solent until Wednesday.
Some of the first to come ashore in Portsmouth said they would be using the opportunity to visit London.
Named after the 33rd US president and commissioned in 1998, the USS Harry S Truman carries more than 70 helicopters and fixed-wing aircraft and its deck is 334m (1,096ft) long.
The US Navy said the carrier and other vessels in its strike group had most recently been on operations in the North Atlantic, Mediterranean and Arabian Gulf.