Southampton's Itchen Bridge tolls fees set for 20p rise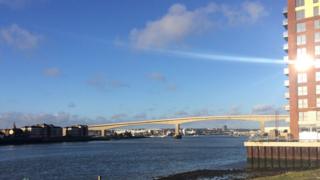 Toll fees for crossing Southampton's Itchen Bridge are set to rise as part of a council's budget measures.
The city council is proposing a 20p rise in tolls for drivers of cars and vans crossing the bridge who are not residents of Southampton.
Opposition councillors said the increase showed how "anti-motorist" the council are.
The authority's 2019-20 budget plans reveal the Labour-run authority needs to save £15m.
The bridge toll for cars, small vans and small 4x4s is currently 50p, rising to 60p during peak times.
The toll increase, which could come in from April, is expected to bring in £510,000 in extra revenue each year.
Charges on the bridge, which links Woolston to Southampton city centre, have recently been scrapped for those using fully electric vehicles.
The authority has predicted about £32,000 is expected to be lost in tolls in the first year.
Charging blue badge holders to park in council car parks is also being proposed under the plans.
Two residential care homes, Glen Lee and Holcroft, have also been earmarked for closure.
Council leader Christopher Hammond said: "We are having to make difficult decisions about reducing costs.
"People are telling us is that they want care in their own homes, they don't want to go into a residential care home setting, so we've seen demand decrease and these homes aren't operating at capacity so we're looking at other options."
Dan Fitzhenry, Southampton Conservatives leader, said it was "another Labour budget that delivers nothing while asking residents to pay more".
"Here we go again. Closing care homes, increasing charges and no commitment to any additional services," he added.
A 12 week consultation on the plans starts on 24 October - the final budget is expected to be approved at a council meeting on 20 February.