Green groups call for ban of Ben Ainslie's America's Cup sponsor Ineos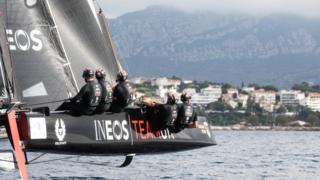 Environment groups are calling for the sponsor of Sir Ben Ainslie's Portsmouth-based sailing team to be banned from the America's Cup.
Greenpeace and Friends of the Earth say raw plastic material manufacturer Ineos is "environmentally destructive".
They have delivered an open letter to World Sailing president Kim Andersen urging the governing body to disassociate itself from the sponsor.
World Sailing said boats need to comply with its advertising code.
The code states "anything advertised shall meet generally accepted moral and ethical standards. Any advertising which is political, religious, racial or propaganda shall not be displayed".
It currently does not include any other advertising restrictions.
World Sailing, which is expected to sanction the 2021 America's Cup in due course, is responsible for developing racing rules of sailing and regulations for all sailing competitions.
The open letter, delivered by anti-fracking protester Joe Corre and campaigners dressed as a dolphin, penguin, seal and seagull with plastic bags over their heads, asks World Sailing to consider the "implementation of an ethical and environmentally friendly sponsorship policy".
The letter ends: "Under World Sailing's own code of ethics, a core part of 'the spirit of sailing' is a love of the natural environment.
"Therefore Mr Andersen, in that spirit of sailing and the love of the natural environment, we urge you to take a stand."
The letter has been backed by 32 supporters including Greenpeace UK executive director John Sauven and Dame Vivienne Westwood.
In a statement Ineos Team UK said: "As a sailing team, ocean debris is a clear concern, the oceans are our playground and all at Ineos Team UK are passionate about their protection.
"Since Ineos came onboard, we have been working closely to find ways to effectively tackle plastic debris entering our seas and oceans."
The team has yet to respond to a BBC request for a specific comment on the claim by Greenpeace and Friends of the Earth it is being sponsored by an "environmentally destructive" firm.
Ineos has not responded to a request for comment.
The National Education Union (NEU) has just passed a motion to oppose Ineos' sponsorship of The Daily Mile - a scheme for children to run or jog for 15 minutes every day in their schools or nurseries. Children at 5,000 schools in 44 countries currently take part.
Kevin Courtney, general secretary the NUT section of the NEU, said: "We fully support the notion of the Daily Mile and encourage schools to get involved in it.
"However we strongly object to Ineos' sponsorship appearing in schools. Especially after the latest climate change report it is increasingly clear that for our children's futures we need to move quickly away from a carbon economy."
Energy firm Ineos, founded by the UK's richest man Jim Ratcliffe, manufactures chemicals and oil products needed to make plastics to package food and drink, insulation for houses, solvents and biofuels.
It also has licences to look for shale gas deposits at a number of sites across Yorkshire, the East Midlands and Cheshire.