Mural should be painted over, Southampton student union president says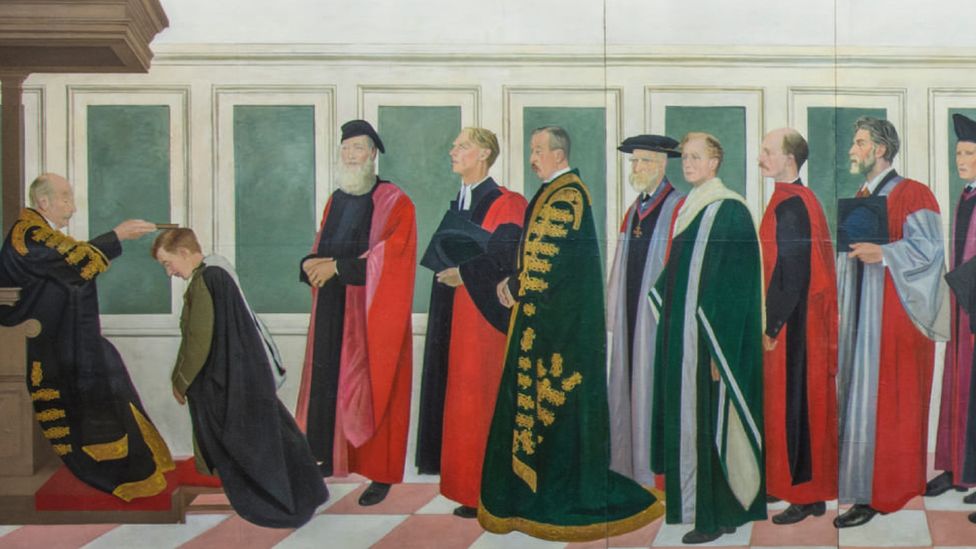 A students' union president has sparked outrage by saying a mural dedicated to war heroes should be painted over.
The artwork, at the University of Southampton, shows a degree being given to an unknown soldier.
Union president Emily Dawes faced a backlash online after saying the "mural of white men" would be taken down or daubed over.
She has since apologised for "the offence and upset" caused by her original message.
The university said it was "very proud" to display the mural, "which serves as a memorial to all members of British universities" who served in World War One.
A petition calling for Ms Dawes to resign from her post has been signed more than 7,000 times.
Ms Dawes originally tweeted: "Mark my words - we're taking down the mural of white men in the uni Senate room, even if I have to paint over it myself."
Southampton Itchen MP Royston Smith was among those critical of Ms Dawes.
He said it was "in poor taste" to "disregard the heroic sacrifice of soldiers who sought to defend the very freedoms, including free speech, which [Ms Dawes] has chosen to exercise".
The mural, painted by Sir William Rothenstein in 1916, was completed as a tribute to students who were killed in the First World War so were unable to collect their degrees.
More than 1,000 people replied to Ms Dawes' post on Twitter, with some describing the comments as "ignorant" and showing "contempt for our brave soldiers".
Glyn McBride tweeted: "What do you want to do? Re-write history?! For goodness sake grow up!"
Tom Guida posted: "It represents all of the students who became soldiers when called, some who never came back. Taking this down would be a massive dishonour."
Ms Dawes was initially defiant but has now issued an apology, saying she "never meant the disrespect to anyone past, present and future".
The artwork was unveiled in the university's Senate Room in 2014 as part of a series of events to commemorate the centenary of the outbreak of World War One.
A university spokesman said Ms Dawes's comments "do not represent the views of the university community".
He said: "We are very proud to display the mural, painted in 1916, which serves as a memorial to all members of British universities who served in the Great War."
A statement from the students' union said: "We do not believe the statement was said to cause upset or disrespect to anyone and does not follow our mission or values."
Related Internet Links
The BBC is not responsible for the content of external sites.