Ancient burial site and monument found in New Forest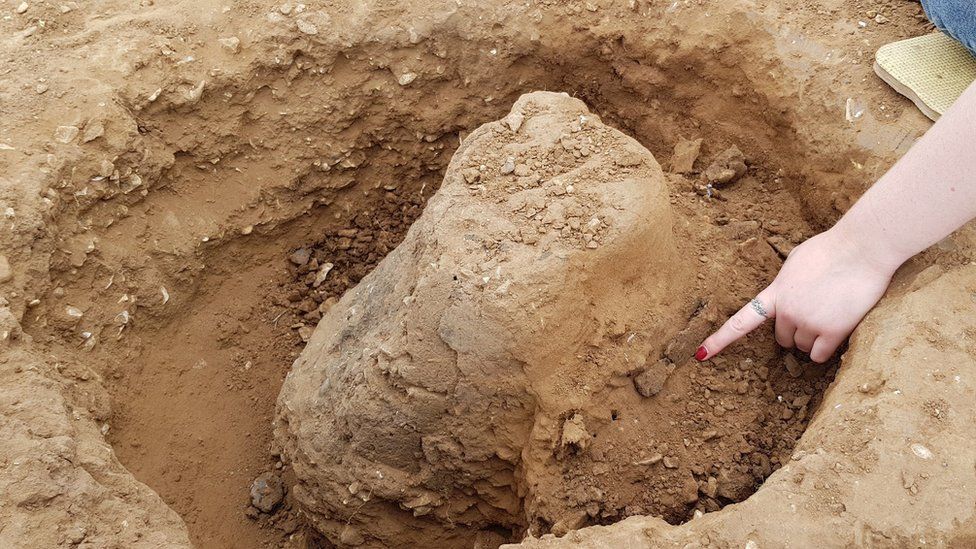 Archaeologists have discovered a 3,000-year-old burial site during a dig on farmland in the New Forest.
They set out to excavate what they thought was a Bronze Age barrow at East End near Beaulieu and found four cremation burial urns.
When the team and volunteers continued to dig deeper they also found two flint tools from about 5,000 years ago.
They said the finds suggested it had been a Neolithic monument that was re-used as a Bronze Age memorial site.
James Brown, New Forest National Park Authority community archaeologist, said: "We were elated to find the urns - they were inverted in what we originally thought was the ditch around the barrow and one has a decorative band pattern on it that will help us to date them.
"These urns were domestic pots and contain cremated human bone placed into small pits.
"But we didn't find any evidence of the barrow's mound or any burial activity in the middle as you might expect."
He added that might be because the barrow had been ploughed out or destroyed by the later field boundary ditches.
Mr Brown said two Neolithic flints - one of which probably would have been attached to a wooden shaft and used as a spear - were also found.
"Geophysics scans showed that there may have been two entrances to the site," he said.
"So the evidence is strongly hinting at a much earlier Neolithic monument that was then re-used in the Bronze Age."
Archaeologists will now analyse the urns and soil, date the urns and conserve them. It is hoped they will go on display somewhere in the New Forest.
Related Internet Links
The BBC is not responsible for the content of external sites.